VALUE ADDED OPTIONS _ OPTICAL BONDING - NOBR Series
Optical Bonding of LCM Module with glass
Optically clear resin between LCD module and cover glass

High image quality and sharper contrast
For Military, Medical, Transportation, Outdoor Display
Inserting Optically Clear Resin between LCD Module and the cover glass, touchscreen improves luminance, shock resistance and performance of display.
High image quality and sharper contrast
Readability by eliminating reflections
Reduced parallax
Resistance to external influences
Condensation prevention
Long-term reliability
Re-bond ability, reversible for repair
Military, Medical rugged displays

Transportation: Marine, In-flight, In-vehicle
EMI / REI (ITO, mesh, etc.) filters
Touch screens
Outdoor information displays and Kiosks
Vending machines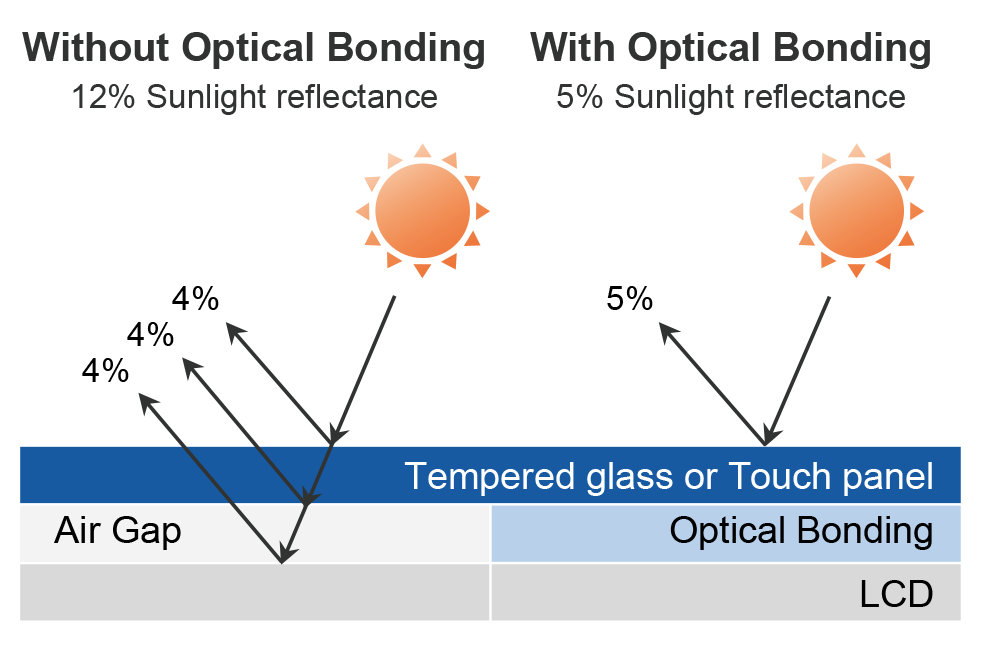 ENVIRONMENTAL PERFORMANCE
Temperature
Stable under multiple ESS cycles between -40°C ~ +95°C
Humidity
95% (R.H. at 70 °C for a minimum of 50 hours)
U / V solar
exposure
Stable fill adhecive & sealing gasket under simulated UV / solar exposure
Chemical
resistance
Stable in contact with most sillicone,
polyurethane and polysulfide adhesive sealants.

*Contact with Solvent Systems (methyl ethyl ketone, acetone, toluene or similar materials) will cause damage.
THERMAL HARDENING ADHESIVE
– CURED BY HEAT CONDITION
Material type
2 – part transparent silicone gel
Mixing ratio
1 : 1
Viscosity
1,980 mPa.s
Cure temperature
65°C
Cure time
46 min
Transmittance
> 99.0 % – UV-VIS
Haze
0.1
* The specification is subject to change without prior notice.